Leaving Cert Home Ec Assignments 2013 Movies
# home-economics - Wednesday 3 June, 2015
# home-economics - Sunday 31 May, 2015
# home-economics - Thursday 5 June, 2014
# home-economics - Tuesday 8 October, 2013
# home-economics - Saturday 7 July, 2012
Here's why all the Leaving Certs are ranting about eggs
Jun 3rd 2015, 8:03 PM 10,724 Views 3 Comments
The first big scandal of exam season is here.
Share29 Tweet4
What did a Leaving Cert exam paper look like 80 years ago?
May 31st 2015, 9:00 PM 38,941 Views 93 Comments
We got our hands on the 1935 home economics exam to see how it compares to more recent papers.
Share85 Tweet100
Leaving Cert students asked about how to cope 'on the Dole'
Jun 5th 2014, 10:38 AM 28,970 Views 23 Comments
That was the Higher Levels. The Ordinary Levels were asked one entire question about soup.
Share109 Tweet41
9 signs you did Home Economics at school
Oct 8th 2013, 1:07 PM 33,974 Views 38 Comments
Of COURSE I know how to do a running stitch.
Share440 Tweet
Save money on your grocery bill: YOUR tips
Jul 7th 2012, 9:15 AM 16,340 Views 11 Comments
Delicious and inexpensive recipes, clever ways with the shopping list… and some creative uses for household items.
Share Tweet20
Submit news and pictures
Hazelwood Apprentice Chefs Face Up to the Heat in the Kitchen!
Two of Hazelwood College's talented Home Economics students, Julia O'Doherty and Laura Stack, recently confirmed that they could take the heat in the kitchen, when they wowed judges with their exceptional culinary skills in the Apprentice Chef final held in the Institute of Technology, Tralee.
In a hotly contested regional final both competed against six other finalists from schools across Limerick, Kerry and Cork. The students had to create a recipe for a main course using ingredients listed in the "Good Mood Food List". Marks were awarded on presentation, quality and skills demonstrated, along with a written project.


Laura Stack created a mouth watering dish which consisted of crispy chicken with spinach and tarragon stuffing served with roast vegetable filo basket and a bell pepper sauce.
Julia O' Doherty impressed judges and secured victory with her sole roulade served on a bed of stir -fried vegetables, potato gratin and a prawn bisque sauce. Apprentice Chef Mentor Judge Mark Doe said "We have been blown away by the standard of not only the cooking of the students' dishes, but just as importantly the standard of projects they submitted"
Julia's exceptional win was rewarded with a very generously sponsored prize of €1,000 worth of cooking equipment for Hazelwood College by Lee Strand, a three day internship with Apprentice Chef Mentor Simon Regan at the 5 Star Hotel Europe in Killarney, three cookery workshops with Apprentice Chef Mentor Mark Doe at "Just Cooking" cookery school in Firies, three Innerjoy Wellbeing coaching sessions with Susan Fitzgerald, an Apprentice Chef uniform, kitchen utensils and certificate.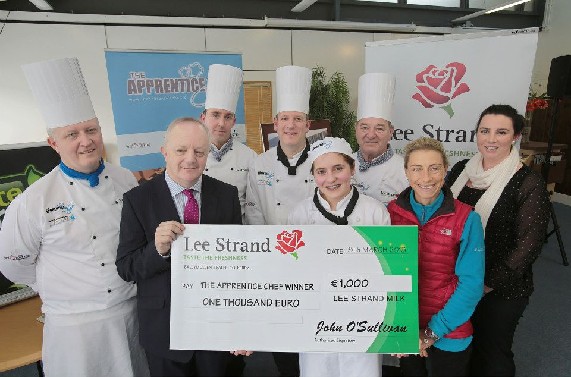 Sixteen year old Hazelwood College Transition Year Programme student, Julia O'Doherty, who was announced as the Overall Winner of The Apprentice Chef 2013. Presenting her with a cheque of 1,000 euros is John O'Sullivan General Manager Lee Strand, from left, Mark Murphy Lecturer ITT, Simon Regan, Chef – Hotel Europe, Mark Doe, Chef – Just Cooking, John Murray Lecturer ITT, Susan Fitzgerald Innerjoy & Wellbeing Coach, Noreen Daly Home Economics Teacher Hazelwood College.